We believe that delicious food, especially when shared, can be one of life's great pleasures. Informed choices are key to a healthy and balanced lifestyle. We're committed to providing quality food and transparent nutrition information. We're continuing our journey to continuously improve the nutritional profile of our products, offer new healthier choices, recognizable ingredients and transparent communication about our food, from field to fork.

Find out more about our commitments in our Sustainability Report.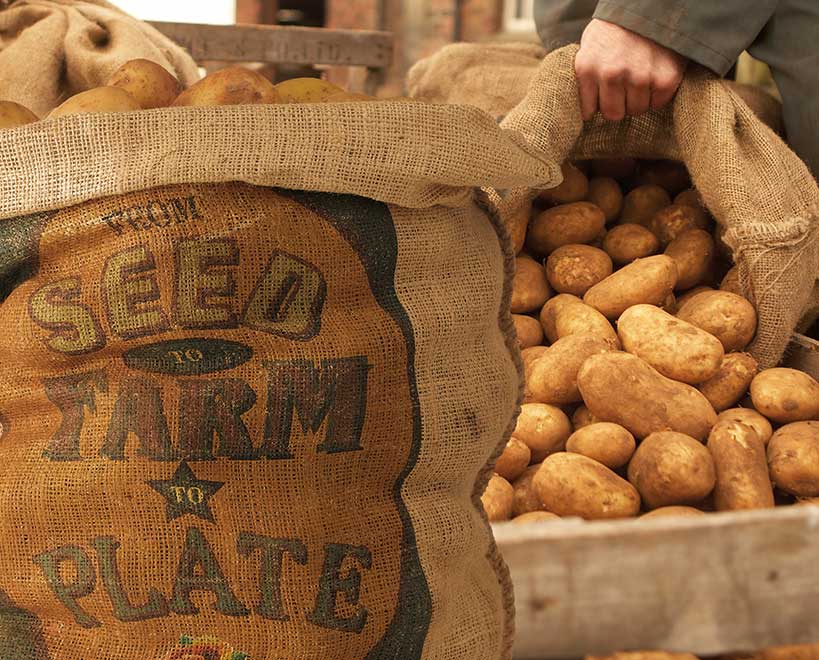 Our overall approach to food production is straightforward and transparent.  We use simple ingredients, with simple preparation and production methods.
In Action: Discover more about our approach to clean labelling
We use as few ingredients as possible and limit the use of artificial flavours, colours, and preservatives. This is called 'clean labelling' – and it's a priority for us.  
When making any product, we aim to: 
Use as few ingredients as possible

 

Use ingredients consumers recognize, expect and accept

 

 

Limit 

the 

use of artificial 

colors

, 

flavors

 and preservatives, where possible

 

Clearly explain the use of artificial ingredients where it is not possible to remove them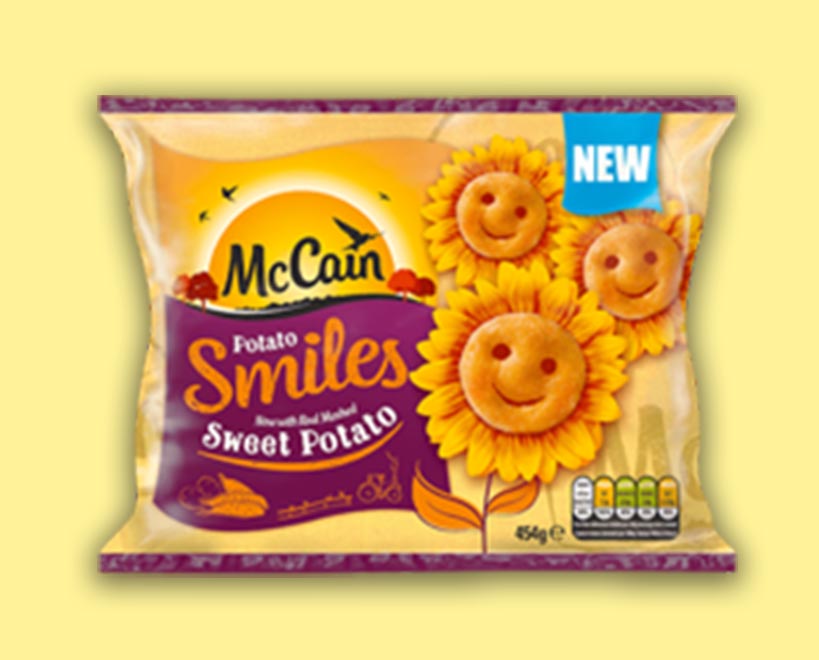 Switching to healthier,
planet-friendlier oils
We continue to improve the nutritional profile of our products by replacing palm oil with healthier and more environmentally friendly alternatives
In Action: Find out how we're reducing saturated fat as we eliminate palm oil
We are replacing palm oil with healthier oil alternatives, such as sunflower, soy and canola, to reduce saturated fat and mitigate deforestation. We have already seen significant reductions in saturated fatty acids in products where we have made the switch from palm oil to sunflower oil for frying.  
By 2025, we aim to have removed palm oil from our frying operations for all McCain branded products. Our frying operations in North America, Great Britain, Australia and New Zealand are already palm oil free. Until we achieve this across our global operations, we will continue to purchase 100% of our palm oil from suppliers who are committed to the Roundtable on Sustainable Palm Oil (RSPO). RSPO provides a rigorous and recognized standard for palm oil production to minimize its negative impact on the environment and local communities.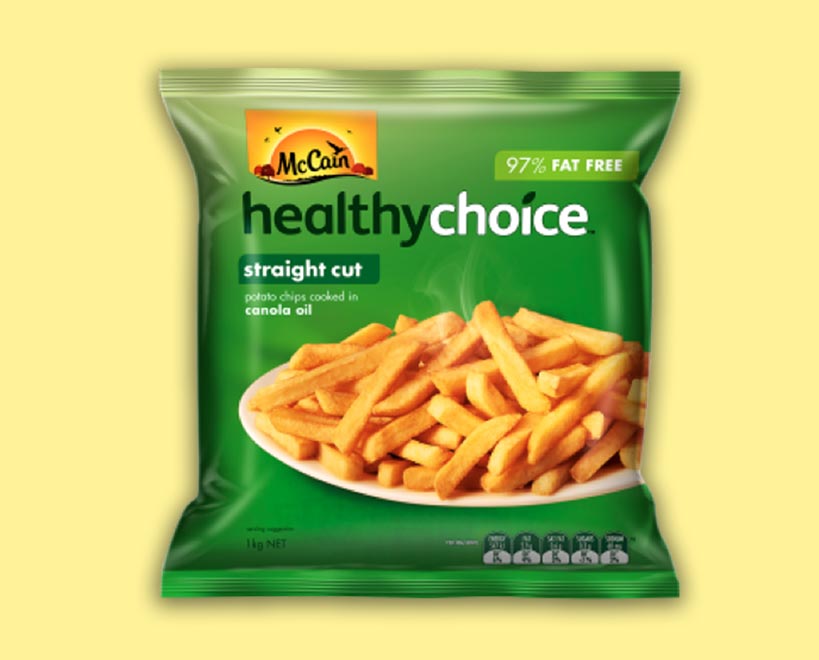 Helping you make
informed decisions
As a responsible food manufacturer, we want everyone to enjoy and understand the nutritional content of our products as part of a varied, balanced diet and provide clear and transparent nutritional information.
In Action: building trust through transparency
In 2006, McCain became the first food manufacturer in the UK to use colour-coded Front-Of-Pack nutritional labelling. Today, 95% of our retail products in the UK carry green (low) or amber (medium) nutritional indicators for fat, saturated fat, sodium and sugar contents.
In other countries, we actively support voluntary FOP labelling that is based on evidence, consumer insight, marketplace adoption, aligned with public health goals and supported by consumer education. For example in Belgium and France almost all our retail potato products have a Nutri-Score rating of either 'A' or 'B'.
These regionally accepted rating systems provide easy-to-understand nutritional information on our packaging. It's all part of our longstanding commitment to transparency to help customers make positive food choices that support varied diets and healthier lifestyles.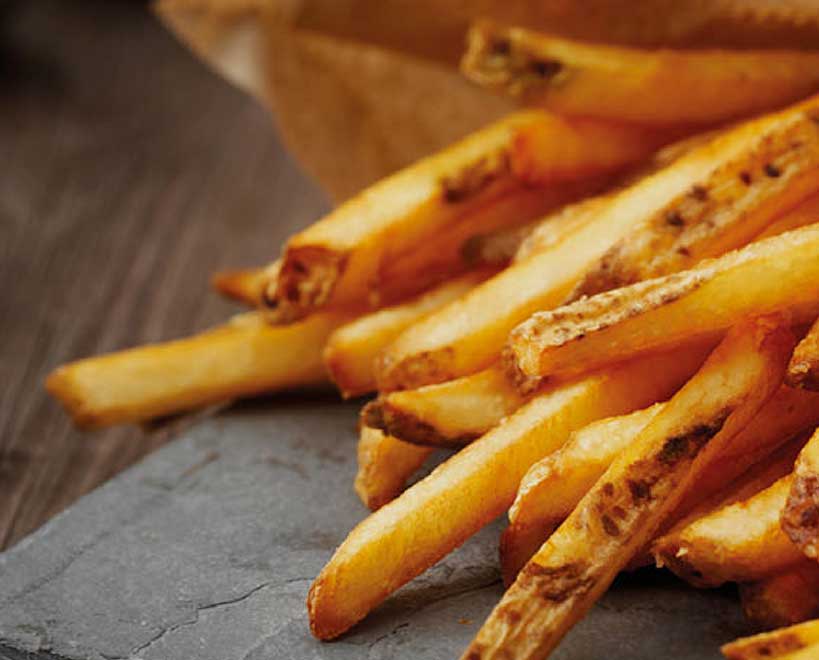 Making your favourites
even better
Investing in product reformulation helps us to ensure that our products meet the need for convenient and nutritious food that tastes great.
In Action: Find out how we're reducing sodium in our products
We want to serve customers the delicious food they know and love, while also making our products even better nutritionally.
We've set ourselves a goal to reduce sodium by 15% in our potato and appetizer products by 2025*. To achieve this we're building on our success in offering healthier products to consumers in some countries, where we've reformulated existing products to reduce saturated fat and achieve lower sodium levels.
In Australia and New Zealand, for example, we launched the Healthy Choice range with lower sodium and fat contents in 2001. Soon after, in 2014, we expanded it to include wholegrain and vegetarian options, such as the popular and nutrient-rich 'skin-on' fries.

*sales-weighted average from 2018 baseline
Watch our video on Nutrition in Continental Europe.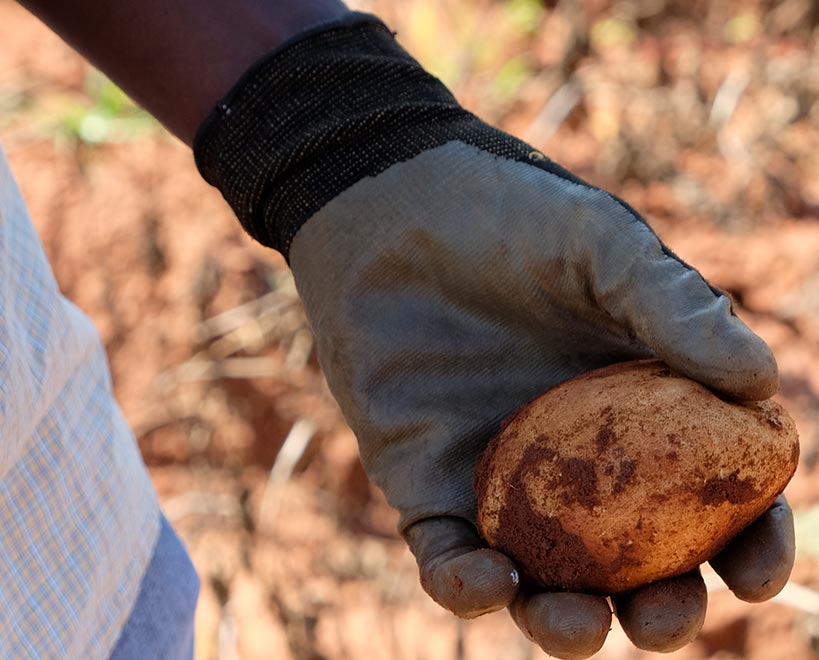 Progress through
partnership
Through global and regional research partnerships, we are advancing nutrition research.
In Action: Learn about our work to advance nutrition research
We've been collaborating with leading academic groups working to promote nutrition and innovation for many years.
Under the guidance of our internal scientists as well as respected scientific advisors, our team works to advance research on potatoes and human health. We partner with top Universities, Research Institutes and organizations such as APRE (Alliance for Potato Research and Education) in the USA, which has access to approximately 140 research centers around the world.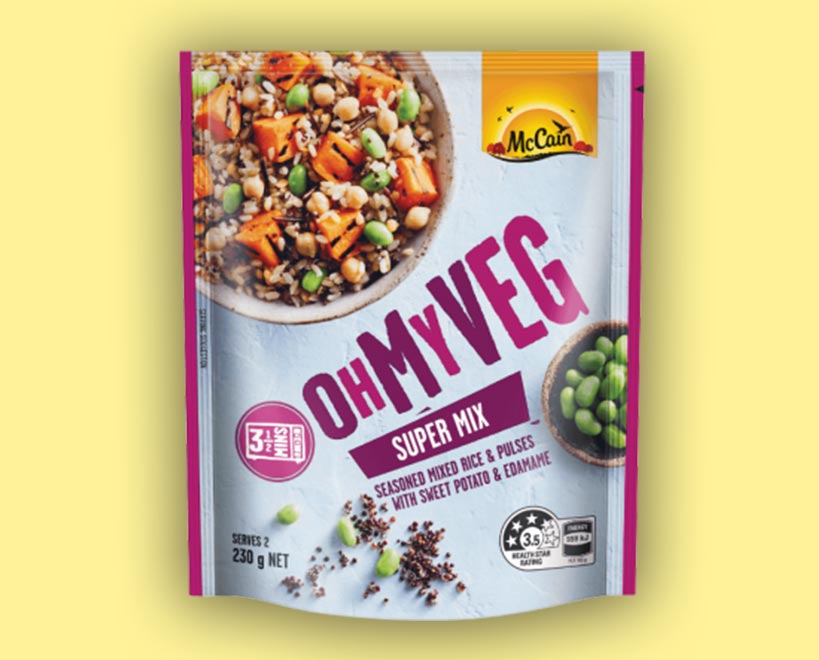 Expanding our
healthier offerings
Continuing to innovate and expand our healthier offerings in potato, appetizer and new product segments.
In Action: Discover how we're pioneering positive change through research and innovation
We strive to meet the needs of increasingly health- and planet-conscious consumers by focusing on the future of food and diversifying into more vegetable, vegan and gluten-free options.  As consumer preferences begin to change, we're also witnessing critical global health challenges such as rising obesity levels and non-communicable diseases due to malnutrition.  We're combating these global challenges by understanding consumer health and wellness needs and pioneering new and healthier product options.
In some countries, we've redeveloped specific products to meet the health and wellness needs of school children and people in senior care. In Canada for example, we've redeveloped 22 potato products with a special focus on lower fat and sodium levels to meet the needs of seniors.