With our roots in rural farming communities, McCain Foods has a deep affinity with farmers.
The global agricultural system is under pressure. As the world's population increases, so does the demand for food. In fact the world's population is projected to reach 9.7 billion by 2050*, with major implications for resource consumption and food production. Therefore, agricultural yields must increase. Yet farmers are facing multiple challenges including unpredictable climatic conditions, soil degradation, water scarcity and competing land uses.
Smart and sustainable farming is a core aspect of our commitments. Our aim is to help our farming partners increase yields while reducing their environmental impacts. We do this by leveraging our agricultural expertise and long-term partnerships, and enabling farmers to adopt new crops, techniques and rapidly evolving technologies. We also carefully monitor and manage water usage in arid areas as this will be critical for sustainable food systems in the future.
*Source: UN DESA report, "World Population Prospects: The 2015 Revision"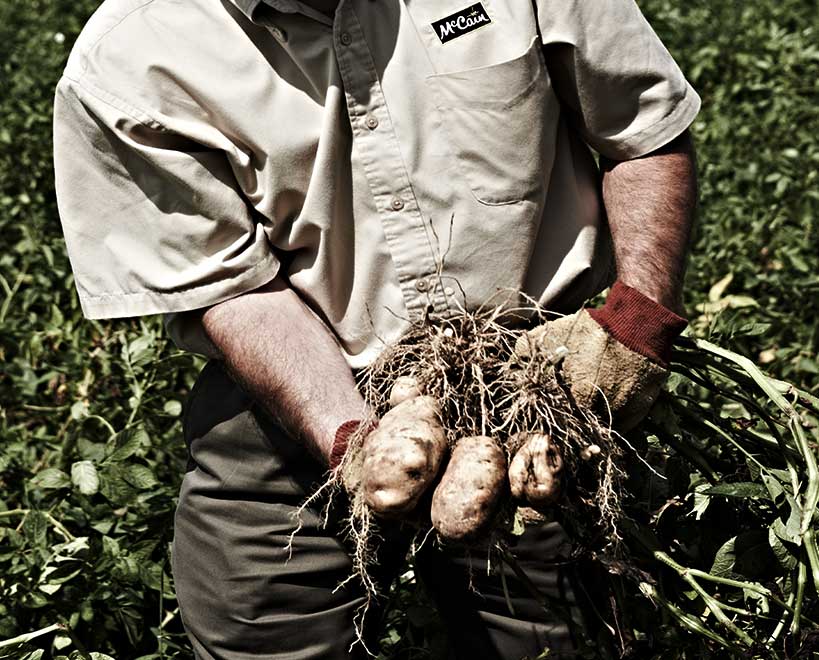 Driving sustainability of
potato crops
Potatoes are a vital part of our business. So collaborating with the whole supply chain on potato sustainability from farm to fork is a key area of focus.
In Action: Read about the "Potato Sustainability Initiative" in North America
In North America we've co-created a multi-stakeholder approach with the Potato Sustainability Initiative (PSI). This collaboration between potato product buyers, processors, growers, grower organisations and advisors aims to work together to improve the sustainability of potato production throughout the supply chain in the US and Canada.
In Action: Discover how we are innovating in potato varieties
Working closely with growers, we leverage agri-science techniques to develop new potato varieties and share best practice growing techniques. This starts with the seed potatoes used to make our products.
For example, our potato business in Montrose, Scotland supports research and development into seed production. We test thousands of varieties to find the best potatoes for our products - as well as the highest yielding and most sustainable.
McCain Foods supports the process at every stage to ensure we have the best possible potatoes to make our products. Potato varieties are selected on key characteristics that make them the most suitable for our products, including size, fry colour and moisture content.
By introducing new varieties in regions with difficult and volatile growing conditions, this can help growers to improve both quantity and quality of harvests.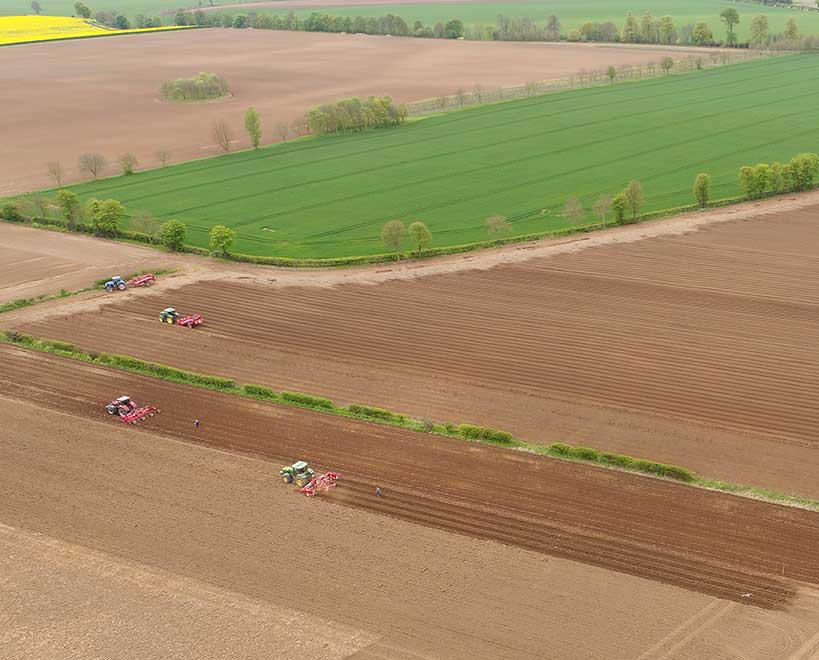 Partnering on agricultural
innovation
With technology continuously evolving, we are committed to investigating how they can improve agricultural practices and reduce our environmental impact.
In Action: Hear about our technology partnership with Resson
In Canada, we are a key strategic partner to Resson, a predictive analytics company for the agricultural industry. Using machine learning, big data analytics and computer vision, Resson helps growers make better-informed decisions about crop management to increase productivity. The company deploys cameras mounted on tractors or drones that deliver insights to help better manage yields, crop inputs and agronomy decisions. Through our partnership with this innovative agricultural start-up, we're piloting Resson technology in real-life potato farming environments.
In Action: Read about our innovation investment with TruLeaf
Since 2018, McCain Foods has provided strategic investment to TruLeaf Sustainable Agriculture, an innovative Canadian agricultural technology company. Through its proprietary indoor vertical farming technology, TruLeaf enables the growth of high-quality crops in an environmentally sustainable way, 365 days a year. TruLeaf technology can be deployed in any location, from urban centres to remote rural communities with harsh climatic conditions. Through our collaboration with TruLeaf, we continue to set new standards in environmental care and efficient crop production while passing on new technologies to our growers. Our partnership also directly supports our innovation strategy, through which we actively engage with entrepreneurs to develop and commercialize agri-food technologies.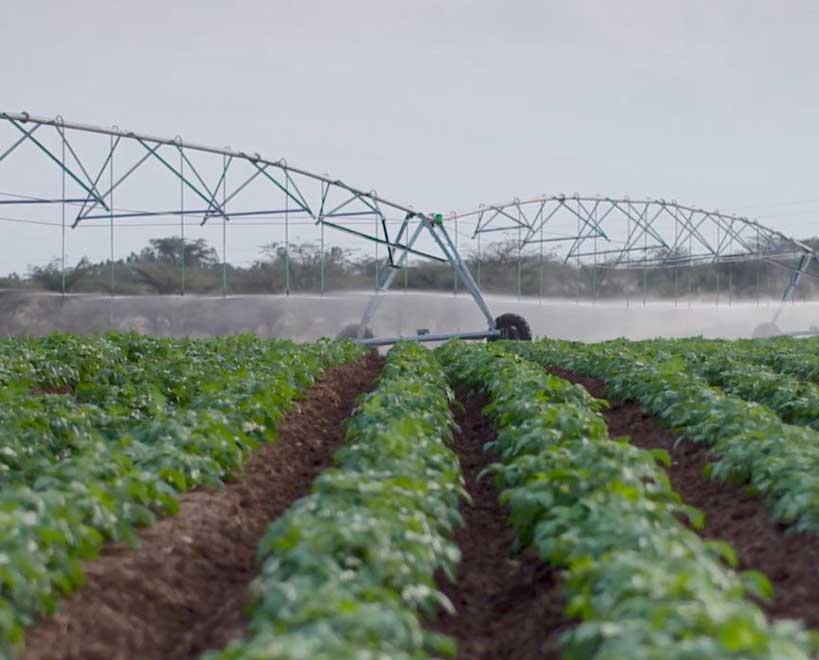 Collaborating on
water conservation
We are committed to working with our growers to reduce water usage in agriculture.
In Action: Learn how we're working with growers to conserve water in India
With our farming partners being based around the world, many can face challenging environmental conditions, such as water scarcity.
We are committed to helping our partners to reduce their environmental impact while maximising the crop yield. For example, we have worked with our farming partners in Gujarat, India to bring drip irrigation to this semi-arid area. Through the introduction of this technology, McCain India has helped reduce water usage by 60% for more than 1,000 small growers.