Adopting planet-friendly practices to improve agricultural resource efficiency and address climate change challenges.
The global agricultural system is under pressure.  Agricultural yields must improve to continue feeding a growing population, yet growers are facing multiple challenges including unpredictable climatic conditions, soil degradation, water scarcity and competing land uses.

We are committed to helping growers future-proof their operations by promoting smart and sustainable farming.  This includes supporting innovation and technology, enabling sustainable water usage, mitigating climate change by reducing CO2 emissions and promoting good agricultural practices.

Find out more about our commitments to smart and sustainable farming in our Sustainability Report.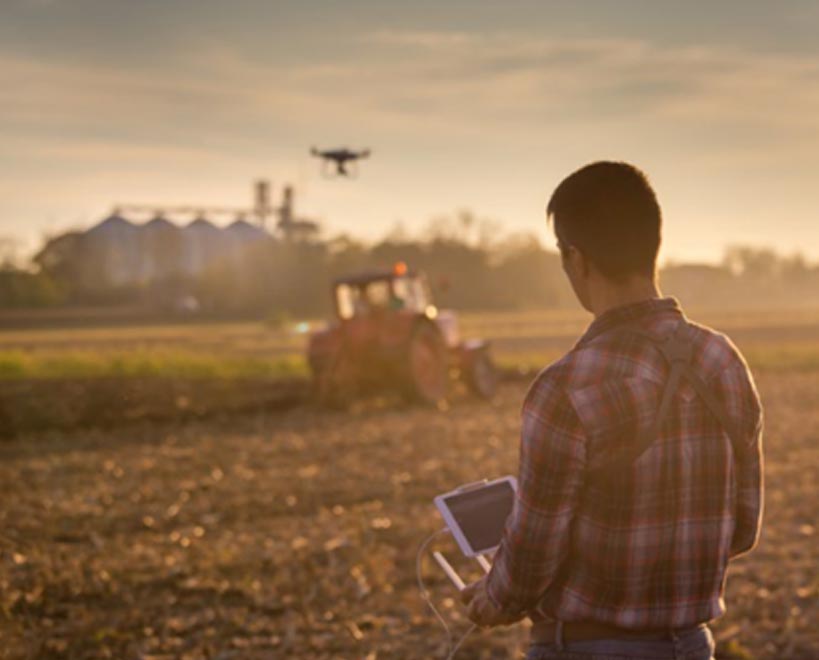 Supporting
innovation & technology
We are investing in three Farms of the Future to advance sustainable farming practices and explore innovative agricultural  technologies.
In Action: Read more about our Farms of the Future
These innovative commercial potato farms, in three different climates, will be operational by 2025. One of the key objectives of our Farms of the Future program is to demonstrate the scalability and economic viability of initiatives that can help produce more food with less use of natural resources, while enhancing biodiversity and soil health.  
 
These farms will serve as research and innovation hubs to pilot and test regenerative agricultural practices using state-of-the-art technologies, renewable energy and machinery innovation. They will encourage collaboration and innovative partnerships between scientific communities, businesses and NGOs to work together for meaningful research and development.
Once we demonstrate the viability and impact of our Farms of the Future program, we aim to roll out the best sustainable agricultural practices across our global farm network.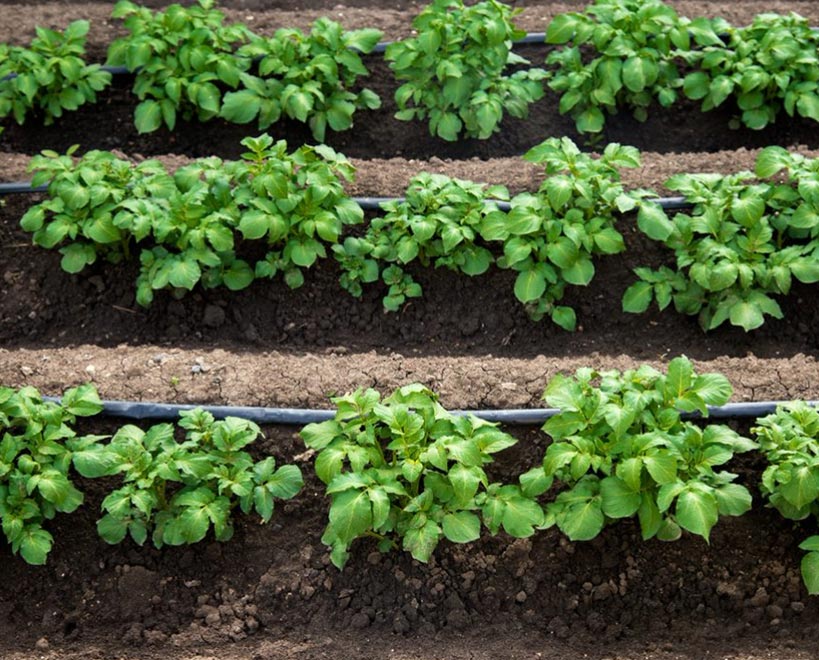 Enabling sustainable
water usage
We are working with our growers toward more sustainable water usage in agriculture, particularly in water-stressed regions.
In Action: Learn how we're developing drip-irrigation solutions
We are committed to achieving 15% improvement in our water-use efficiency in water-stressed regions by 2025 and driving implementation of best practices across all farms. To address the growing issue of water scarcity, we have identified priority areas in need of better water management – including our growing regions in India and China, where we introduced highly efficient drip irrigation systems. 
Compared to traditional pivot irrigation systems, our drip systems boost water-use efficiency by around 20%.  As a result, our growers in China and India have increased their use of drip irrigation to 17% and 80% of hectares respectively since 2016.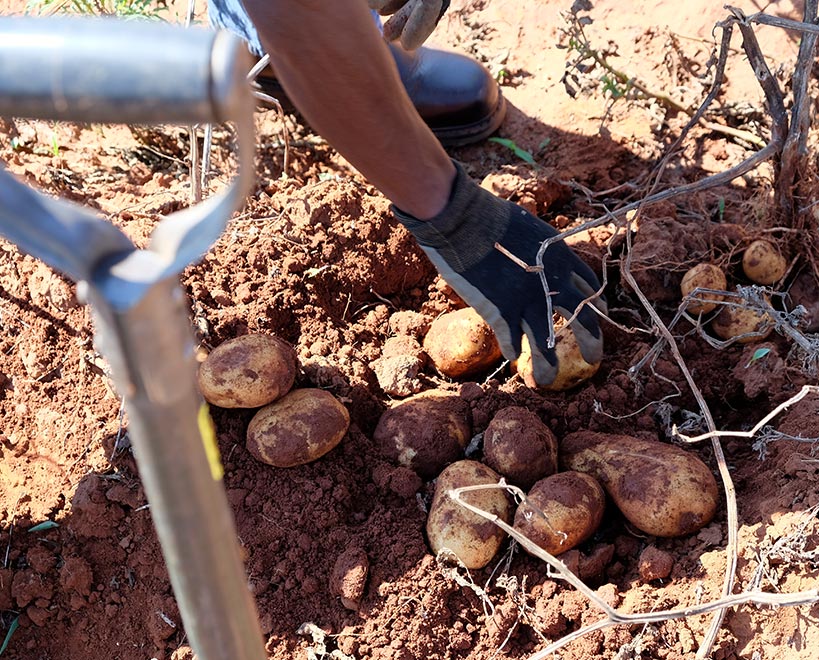 Given the increasingly unpredictable climate, the shift towards smart and sustainable farming practices and the use of renewable energy on farms is vital.
In Action: Find out more about our efforts to reduce CO2 emissions
We have set a goal to reduce CO2 emissions per tonne from potato farming, storage, and freight by 25% by 2030 (Scope 3).

Over the last six years, our efforts have primarily focused on climate adaptation by developing and introducing new potato varieties. This work has led to improvements in yield and quality, climate adaptation and pest and disease resistance.
As fertilizers are one of the main causes of CO2 emissions in potato farming, we'll focus on initiatives that optimize their use. This will include increasing the use of nutrient-restoring cover crops like clover and wildflowers, improving fertilizer usage efficiency through strategic placement (right amount, right place, right time), and sourcing fertilizers with lower CO2 impact.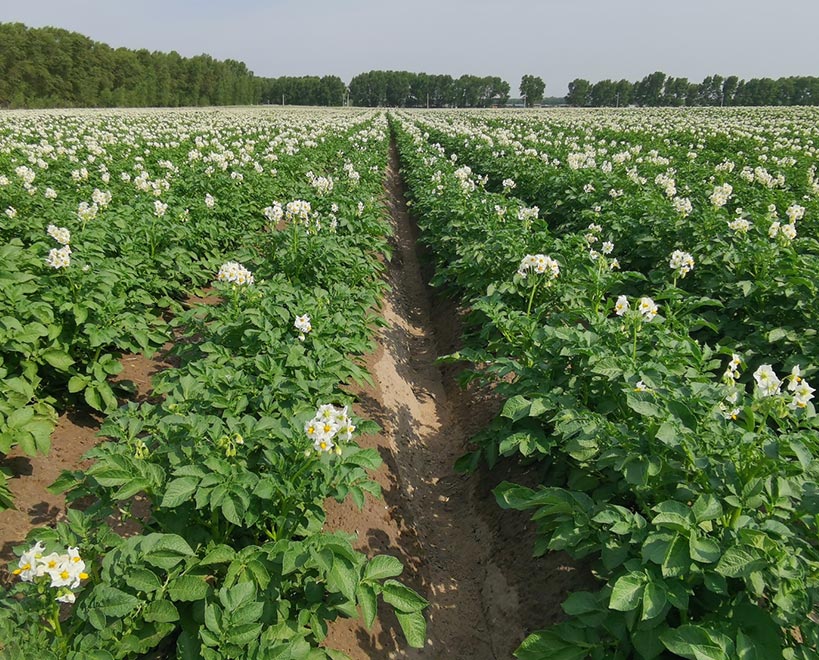 Promoting good
agricultural practices
We work together with our growers to implement good agricultural practices related to food safety, traceability, environmental sustainability, biodiversity and soil health.
In Action: Learn about One Planet Business for Biodiversity (OP2B)
With the planet facing an urgent climate and biodiversity crisis, McCain has become a founding member of the One Planet Business for Biodiversity (OP2B) coalition. Launched at the UN General Assembly (UNGA) on September 2019, this business-led coalition aims to gather forward-thinking, agriculture-centric companies determined to take bold action to protect and restore cultivated and natural biodiversity within their value chains. In addition to business-led actions, the coalition will engage decision makers to develop and promote policy recommendations.

The three main focus areas moving forward are:
- Promoting regenerative agricultural practices 
- Enhancing product portfolio diversification 
- Avoiding deforestation and restoring high value ecosystems.

Learn more about our commitment to biodiversity in the Netherlands.
In Action: Read about the Potato Sustainability Alliance in North America
We strongly believe that partnerships and multi-stakeholder collaborations are key to achieving a more sustainable planet.  In North America, we take part in the Potato Sustainability Alliance, a collective of potato industry stakeholders who seek voluntary certification for sustainability through training, yearly surveys, and audits based around all areas of farm management.
In Action: Discover how we are innovating in potato varieties
Working closely with growers, we leverage agri-science techniques to develop potato varieties suited to drier climates, with over 15 varieties introduced to date globally. These specific potato varieties are well suited to water-stressed conditions based on their resistance to heat and water fluctuation. By 2025, we aim to increase the use of such varieties to 20% of all potato crops grown for McCain. Introducing new varieties in regions with difficult and volatile growing conditions, can help growers to improve both quantity and quality of harvests.
We also continue to adopt fertilizer-efficient potato varieties to minimise our CO2 emissions, as fertilizers are one of the main causes of CO2 emissions in potato farming.
In Action: Good Agricultural Practices certification
Increasingly, consumers want to know and understand where ingredients come from and how the product is made.
In 2019, we're proud to say that 93% of our global potato volume was certified for good agricultural practices. This means that our growers have implemented good practices on-farm and in post-production related to food safety, traceability, environmental sustainability, biodiversity, and soil health in line with regional standards.
We're aiming to increase this certification to 95% by 2025.
Watch our video on the Global GAP in Poland.