Bar 9 Farms understands that sustainable farming starts from the ground up. Neil, Kelsi, James, Andrea, and Marion Bareman worked tirelessly over the past couple of years to implement a "keep it green" policy across their operations to ensure the soil remains healthy all year round. They've managed to use this initiative to not only protect the soil so that it stays intact, but to also ensure they provide the soil and associated microbes with actively growing plants and roots, regardless of the season.
For Bar 9 Farms located in Grassy Lake, Alberta, it's important to find these weather resistant solutions across their farms, particularly when winter is known to periodically set in as early as September.
"Becoming more sustainable means growing a crop that weathers better in environmental extremes, produces more on less land, and ensures that the soil will yield crops for generations to come." Says Neil Bareman, Bar 9 Farms.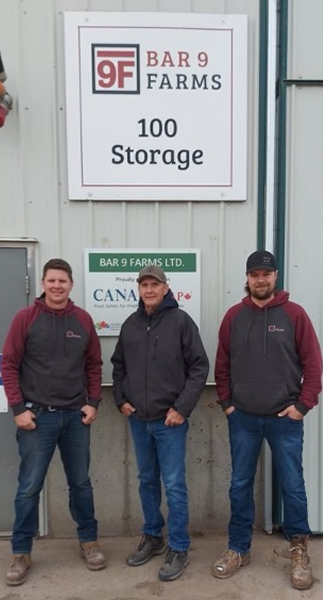 The team at Bar 9 Farms understands that McCain's regenerative journey is all about improving practices for the future. According to the Bareman's, forging a more sustainable path forward results in adopting operations that may diverge from common practices, in favour of innovative new solutions.
In a bid to become more sustainable, the Bareman's have also substantially reduced the use of their foliar fungicides by relying on the pest monitoring programs that have been implemented across the province of Alberta. As a result of the initiative, both commercial and seed growers receive weekly updates on the severity of early blight spores in their specific area. Many, like Bar 9 Farms, use this data to make informed, sustainable decisions when it comes to their fungicide use during the growing season.
"Leading the charge in sustainability means collectively doing better than we did before and working together to create solutions. It looks like the province of Alberta implementing pest monitoring, McCain stepping up to fund it, and farmers like us using it to make informed and sensible decisions that help us reduce our fungicides and improve our sustainable practices." Says Kelsi Bareman, Bar 9 Farms.
With growers far and wide gearing up for the start of the potato season, Bar 9 Farms hopes their insights can inspire the community to pursue and prioritize sustainable agriculture.